1995 year group of Holy Child School install solar panels for alma mater
The 1995-year group of Holy Child School in Cape Coast in collaboration with their 1970 counterparts have embarked on a solar electrification project.
The legacy project which consists of 16 batteries, 20 panels and two inverters of 5kw totalling ȼ90,000.
The project which was commissioned by the Archbishop Emeritus of Cape Coast, Most Rev. Mathias Kobina Nketsiah is expected to provide enough power for the dining and assembly halls.
President of the 1995-year group, Karen Asmah explained the two beneficiary facilities, the chapel and assembly hall, would be totally off the national grid.
"It's our pleasure to give back to our school. An alternative source of energy is our priority and we shall continue to work to ensure that our school gets the best," she averred.
The commissioning of the solar project was a precursor to the school's 74th anniversary and Speech and Prize-giving Day celebration sponsored by the 1995-year-old group.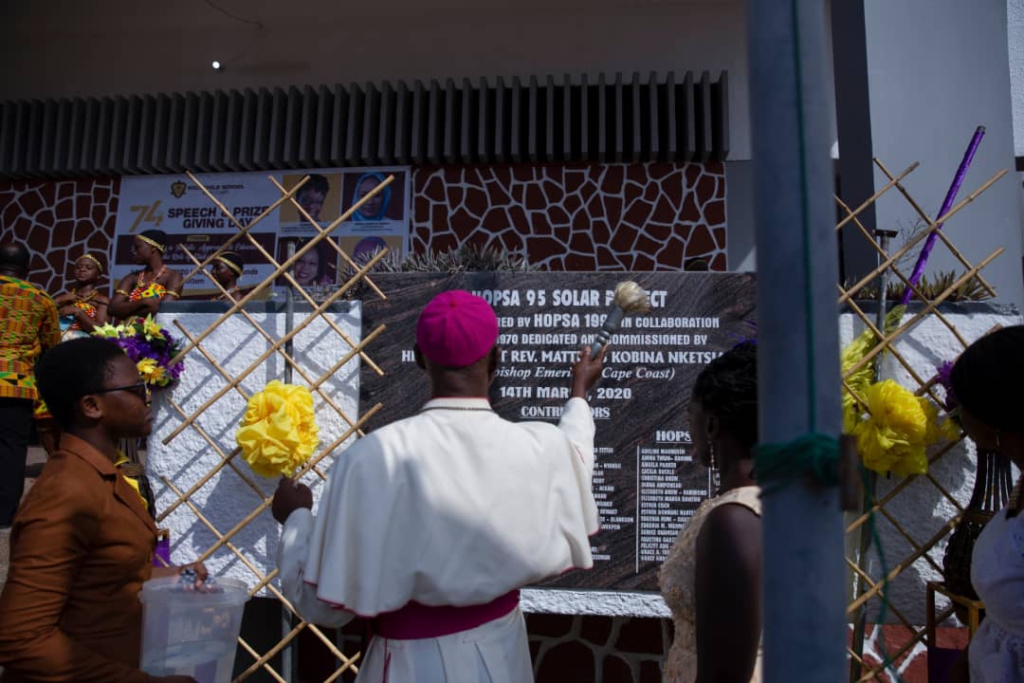 The second lady, Samira Bawumia congratulated the school for nurturing great hearts and minds that are serving in various capacities across the world.
She was optimistic the holistic education provided by the Holy Child School, heavily supported by the principles and ideals of the Catholic Church has had an impact on the products of the school.
"Educational needs of the children are materially different from what it was years ago. And maintaining a holistic approach to education requires the contribution of all stakeholders in the educational sector. And Holy Child has proven to be one of the best in this regard," she stated.
Mrs Bawumia urged the students to challenge their assumptions regularly, maintain and protect their integrity wherever they are.
Headmistress of Holy Child School, Veronica Amponsaa Minta applauded government for giving them the emergency classroom block.
The gesture, the headmistress hoped, would ease congestion in the classrooms and enhance teaching and learning.
She was also hopeful that the emergency dormitory block would also be completed to ease congestion at the dormitory blocks. She called, however, disturbed about the delays in the completion of the dining hall project.
"Contact hours are lost because our students have to eat in batches. This is seriously affecting academic activities," she lamented.
One striking development about this year's anniversary was the precautionary measures taken by the school in the wake of the COVID-19.
The entrances of the school and other vantage points were awash with 'Veronica buckets' with soaps and sanitizers that ensured that their guests, as well as the students, washed their hands thoroughly before joining the gathering.