AKA, Costa Titch, Gloria Bosman and 2 Other Mzansi Celebs Who Died in 2023: From Assassination to Illnesses
AKA, Costa Stitch, Gloria Bosman, Chef Lentswe Bhengu, and Vusi Ma R5 sadly died at the beginning of 2023
Many South Africans were shocked by the deaths of these Mzansi celebrities, as some of the causes of death for artists like AKA and Vusi MaR5 were linked to crime
Costa Sticth and Gloria Bosman are yet to be buried, and the police are still investigating AKA and Vusi Ma R5's murders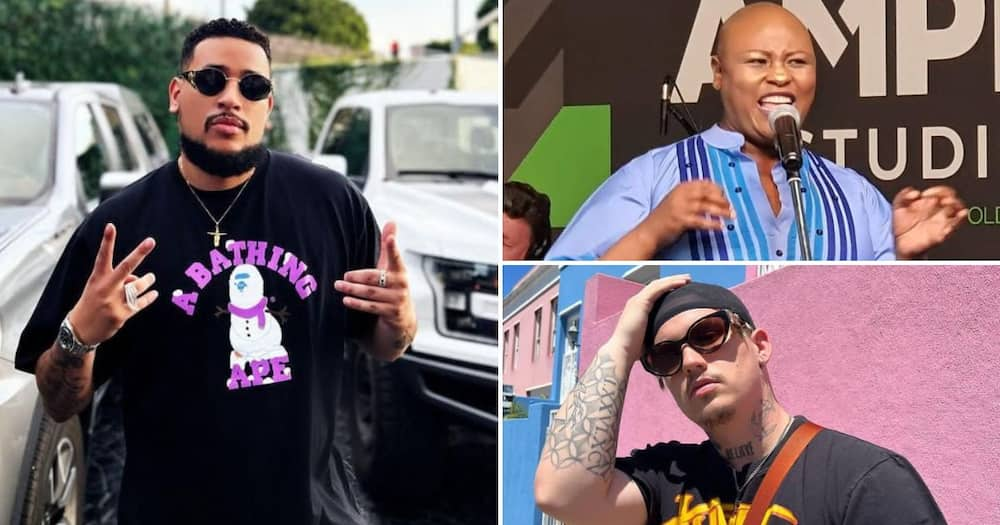 2023 started on a low note for South Africans, as many celebrities kept dying. Some big names with bright futures have sadly departed this world. The causes of death are mostly illnesses and crimes.
Briefly News has compiled a list of the Mzansi celebrities whose deaths shocked the entire country, including neighbouring countries, from AKA to Vusi MaR5.
1. AKA was assassinated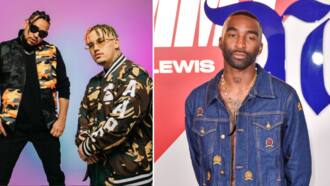 Major League DJz show love to fallen stars AKA, Ricky Rick and Costa Titch in heartwarming tribute
South Africa came to a standstill when news of AKA's passing started circulating on social media. The rapper gunned down with his former manager Tebello "Tibz" Motsoane in Durban on Florisa Road on February 10, 2023. Since then, there have been speculations about who committed the crime.
Mzansi used the viral CCTV footage of the shooting to hunt the killers, and many speculations have been raised. Peeps alleged that Don Design, who was close friends with the Composure rapper, planned the assassination because of his dodgy behaviour in the clip.
Some people said AKA's late fiancée Anele "Nelli" Tembe's family were to blame for Supa Mega's death because they believed the rapper was involved in Nelli's suicide, reported IOL.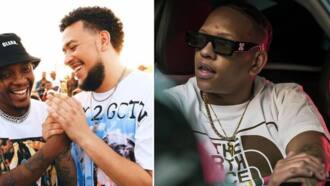 'Love and Hip Hop SA' cast Da L.E.S and Yanga Chief honour late rapper AKA in episode 3, stars also discuss SA musicians' safety
However, despite all those rumours, no arrests have been made. Minister of Police Bheki Cele's last report about the high-profile case was that the police are doing everything possible to catch the Mass Country hitmaker's killers.
"Maybe (there are) things I am not meant to say. But one of them (that I) can say, we have collected many cellphones that were working, download and all that kind of thing, trying to patch and knit things together. That is the last I received yesterday (Monday, 6 March 2023," reported ZAlebs.
2. Costa Titch collapsed during a performance
While Mzansi was still coming to terms with AKA's death, his friend and fellow rapper Costa Titch lost his life. Titch fell during his performance at the Ultra Music Festival at the Nasrec Expo Centre on Saturday, March 11, 2023. He was 28 and had a bright future, especially after signing with U.S artist Akon's music label, Konvict Muzik.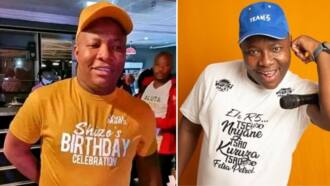 Bacardi musician Vusi Ma R5's grave burned and vandalised a month after passing, pics go Twitter viral: "People are vile"
Titch, whose real name is Constantinos Tsobanoglou's cause of death sparked a huge online debate. The South African news publication reported that many claimed he had an epilepsy history, while others blamed drugs and the COVID-19 vaccine.
Costa hasn't been buried yet, even though a statement confirming his death was shared on his Instagram page. The memorial service and funeral details haven't been announced.
3. Gloria Bosman dies from a short illness
According to News24, Gloria Bosman's family issued a statement saying she passed away at 50 years old after suffering from a short illness that ended her life on March 14, 2023. Bosman was a renowned jazz musician passionate about representing musicians, especially when protecting their rights.
In December 2022, she joined the South African Music Rights Organisation board (SAMRO), and the organisation opened up about their loss in a statement, saying: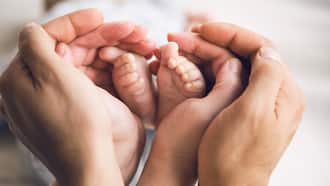 Police on desperate search for 2-month-old baby kidnapped during home invasion in Durban
"In the short period that Ms Bosman was a member of the Board, she added a perspective that comprised of a rich blend of insights on member aspirations as well as the direction that our organisation should continue to march towards."
4. Vusi Ma R5 gunned down
Another celebrity who died after being shot by unknown men is Vusi Ma R5. He was killed outside a tavern in Soshanguve. IOL reports that his killers are still on the run, but the police are doing everything they can to arrest them.
"The police requested anyone with information about the incident to contact the nearest police station, or report on the Crime Stop Line at 08600 10111."
While the cops are still trying to find out who killed the star, pictures of his grave being vandalised circulated on Twitter. @MDNnewss shared the pics, and peeps rushed to the comments to lambast whoever threw stones and burned Vusi Ma R5's tombstone.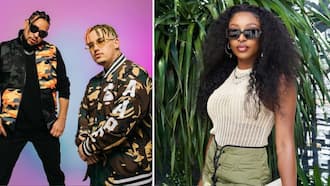 RIP Costa Titch: DJ Zinhle mourns AKA and Costa Titch in emotional posts: "It never ends"
Love and Hip Hop SA cast Da L.E.S and Yanga Chief honour late rapper AKA in episode 3, trailer trends
In other stories, Briefly News reported that the Love and Hip Hop SA cast, including Da L.E.S and Yanga Chief, was still reeling from AKA's death.
Supa Mega was murdered in Durban on Florida Road outside Wish restaurant. ZAlebs reported that unknown men shot the rapper, and they are still on the loose even though the police say they are doing everything they can to find the suspects.
According to TshisaLIVE, the latest Love and Hip Hop SA episode will be dedicated to AKA. Mega's friends Da L.E.S and Yanga Chief shared how they are dealing with the tragic murder of their friend and a talented industry mate.
Source: Briefly News

Published by: briefly.co.za