American Police Officers Charged with Death of Kenyan Man at Mental Hospital
Deputies from the Henrico County Sheriff's officers in Virginia are facing second-degree murder charges after allegedly smothering a Kenyan man to death
Irvo Otieno died on March 6, while waiting to be admitted at the Central State Hospital; a mental health facility
A 12-minute footage showed that Irvo was smothered to death and the seven have now been placed on administrative leave
Seven Henrico County Sheriff's officers have been charged with second-degree murder in Virginia for the death of a Kenyan man, Irvo Otieno.
Irvo was allegedly smothered to death
The 28-year-old died man at a state mental health hospital on March 6, while awaiting admission.
People reports Henrico County police officers approached Irvo after responding to a potential burglary on the morning of March 3.
PAY ATTENTION: Follow us on Instagram – get the most important news directly in your favourite app!
Kisumu: Man Who Injured Widowed Sister-In-Law's Eye With Pliers Arrested
They placed him under an emergency custody order.
Previously, a neighbour had called to report Irvo's behaviour, making him the subject of a mental health call.
Irvo was taken from jail in Henrico to Central State Hospital, a state-run psychiatric facility in Dinwiddie County.
Baskervill said Irvo was restrained
According to Dinwiddie County Commonwealth's Attorney Ann Cabell Baskervill, Irvo was physically restrained with handcuffs and leg shackles.
The seven deputies were charged with second-degree murder after 12-minute footage showed that Irvo was smothered to death.
"Irvo was smothered to death by the weight of seven deputies on top of him," said Baskervill.
During the deputies' arraignments, Baskervill stated said Irvo died of asphyxia after suffocating while he was being held on the ground.
7 deputies were cruel to Irvo
She described the actions of the seven as "cruel treatment" toward Irvo. The seven police officers turned themselves in on March 13.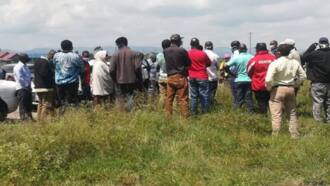 Kajiado: German National Aged 80 Found Killed at His Home, Body Tied on Bed
They include Randy Joseph Boyer, 57; Dwayne Alan Bramble, 37; Jermaine Lavar Branch, 45; Bradley Thomas Disse, 43; Tabitha Renee Levere, 50; Brandon Edwards Rodgers, 48, and Kaiyell Dajour Sanders, 30.
The deputies will appear before a grand jury on March 21.
In response to the charges, Henrico County Sheriff Alisa A. Gregory released a statement stating that their office was fully cooperating with the investigation.
Henrico County sheriff extended condolences to the family and friends of Irvo.
The seven deputies have been placed on administrative leave, pending the outcome of the Commonwealth's cases.
Kenyan man found dead in US
His death comes in the wake of Patrick Obutu's demise on February 28 in his house in the US as well.
Obutu was a victim of a fire incident that happened in Prince George's County, Washington D.C.
Fox 5 Washington D.C reports his family owned the home for over 25 years and by the time the fire brigade came in, its roof had already caved in and he was lying dead.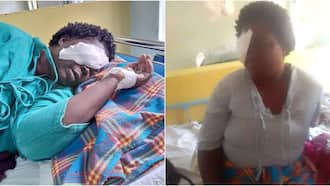 Kisumu Widow in Pain after Brother-In-Law Hits Her Eye Without Pliers
Source: TUKO.co.ke

Published by: www.tuko.co.ke