Daisy Nyongesa Gifts Herself KSh 7.2m Toyota Land Cruiser to Celebrate 33rd Birthday: "Ground Chopper"
Daisy Nyongesa is a former ODM nominated senator and also the wife of Lugari MP Nabii Nabwera
The mother of three who believes in living a soft life now runs her businesses and takes care of her family
She has a fleet of eight cars and her favourite brand is the Toyota Prado which she has Christened ground choppers
Former Orange Democratic Movement (ODM) nominated senator Daisy Nyongesa has celebrated her 33rd birthday by spoiling herself with a shiny, brand new Toyota Land Cruiser.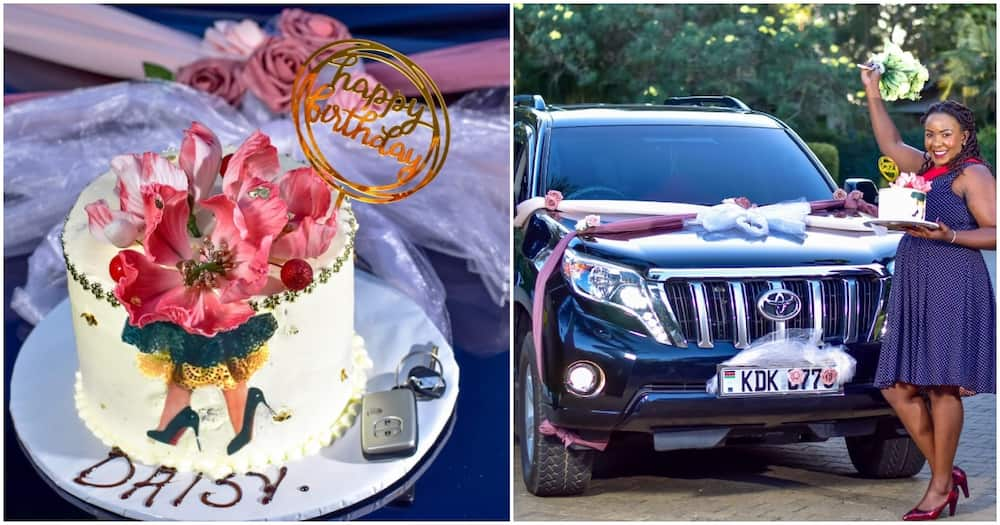 The car cost a jaw-dropping KSh 7, 200, 000
According to Nyongesa, the car cost a jaw-dropping KSh 7, 200, 000 and the money came from her own pocket.
"Gifted myself a KDK 077S from KCK 110E. I refer to my Prados as Ground Choppers. Toyotas are easy to maintain. I chose a land cruiser, is because I love Masculine cars," she said.
"Power is big cars and black for that matter," she added.
The politician told TUKO.co.ke that her first car was a Prado KBU at 24 years old.
"In the same year, I bought an Allion, at 25 years I bought a second Prado KBZ and Premio, when I was 28 years old I bought a third Prado KCK, " she said of her fleet of cars.
"At 30 years old I bought a Mercedes Benz and now I am transiting from KCK to KDK Land Cruiser; such a great coincidence, " she added.
Wife of Nabii Nabwera
Nyongesa, who is also the wife of Lugari MP Nabii Nabwera, is hoping to upgrade when she celebrates her 35th birthday.
"I love a good life. I work hard to reward myself with what I want," she said on January 23.
As if a shiny new car is not enough, the mum of three will also be celebrating her birthday over a period of two weeks.
" I had a surprise party today at North Coast hotel by colleagues. Tonight is a birthday dinner with my husband," she said.
"On Saturday, I will be hosting the Magharibi Farmers Cooperative Society at my parents's home and I am sure they will cut a cake for me," she said of the group that also enquired about the kind of gift she would like to have.
Gifts from USA, Canada, Sweden, and Australia
She will also have another party with her girlfriends in Nairobi while others are scheduled to take place in Uasin Gishu, Mombasa, Likuyani then finally Nairobi.
"My girlfriends have organized one in Nairobi before end of month. This is a special one, I have received enough gifts for sure from my friends including those in USA, Canada, Sweden, and Australia," she said.
The 33 -year- old said she started her new season with happiness, love, good health, and more importantly living in her purpose.
She also celebrated womanhood terming it a ministry in itself. This entailed celebrating being pregnant continuously because of racing the birth clock.
"I celebrate four years of personal discovery journey with tears, pain, and now breakthrough and two years of healing, restoration, rebuilding, and restructuring,: she said.
"I celebrate birthing 3 children and my middle baby turning three years old. This is a special birthday to me because God has restored what was taken away from me," she added.
Nyongesa stepped back from politics to start family
Nyongesa is no longer active in politics despite working tirelessly as Orange Young Democrats League secretary-general for Kakamega in 2013 and earning herself a seat in the Senate.
She served in the upper house and various committees for five years and once her term was over, she chose to take a step back and start a family while running their businesses as well.
Daisy was appointed director of Kenya Fishing Industries Corporation and legislative consultant to the Ministry of Health in Uhuru Kenyatta administration.
Source: TUKO.co.ke
Published by: www.tuko.co.ke