First Female Vice-Chancellor of KNUST Inaugurated into Office after 69 Years
The Governing Council of the Kwame Nkrumah University of Science and Technology (KNUST), Kumasi has inaugurated Professor (Mrs.) Rita Akosua Dickson into the high office of Vice-Chancellor on Saturday, 1st August 2020 at the Great Hall, KNUST. The astute Professor of Pharmacognosy becomes the 11th Vice-Chancellor of KNUST and the 1st Female to occupy that prestigious Office.
His Royal Majesty, Otumfuo Osei Tutu II, Asantehene and Chancellor of KNUST together with the Chairman of Council, Nana Effah Apenteng sworn and robed Professor Dickson into office as the new Vice-Chancellor of KNUST.
His Royal Majesty, in his speech, termed the investiture as historic; not only for the inauguration ceremony of Professor Dickson as the first female Vice-Chancellor in the history of the University, but also, due to the limited number of guests that were seated in the auditorium on such a special occasion and the fact that all guests including the President of Ghana were in a nose masks.
The Chancellor urged Prof Dickson not to be faint-hearted and become the 'Yaa Asantewaa' in the midst of daunting challenges. He called on Professor Dickson to involve all stakeholders in all her activities and avoid side-lining any interest group.
Ending his address, Otumfuo Osei Tutu II, commended Professor Kwasi Obiri-Danso, the immediate past Vice Chancellor of KNUST for the remarkable developmental projects executed under his 4-year tenure as Vice Chancellor.
Professor Kwasi Obiri-Danso, in his address, thanked the University Council and the whole University Community for their massive support in making his tenure a successful one. To him, his achievements and goals were realised through the collective efforts of staff who played key roles in his administration. He entreated both staff and students to accord the new Vice Chancellor with the same support he enjoyed.
His Excellency, Nana Addo Dankwa Akufo-Addo, the President of the Republic of Ghana on behalf of government, congratulated Professor Dickson on her historic achievements as the first female Pro Vice-Chancellor as well as the first female Vice Chancellor of KNUST.
According to the President, the output of KNUST is paramount to the evolution of science and technology in this 21st century. He, therefore, entreated the new Vice-Chancellor to lead the call in the global development. President Akufo-Addo was of the hope that Professor Dickson's tenure of office would be historic as it will be marked by the completion of the KNUST Teaching Hospital which it's construction has stalled for the past 12-years; he assured her of government's support in the delivery of her duties as the Vice Chancellor.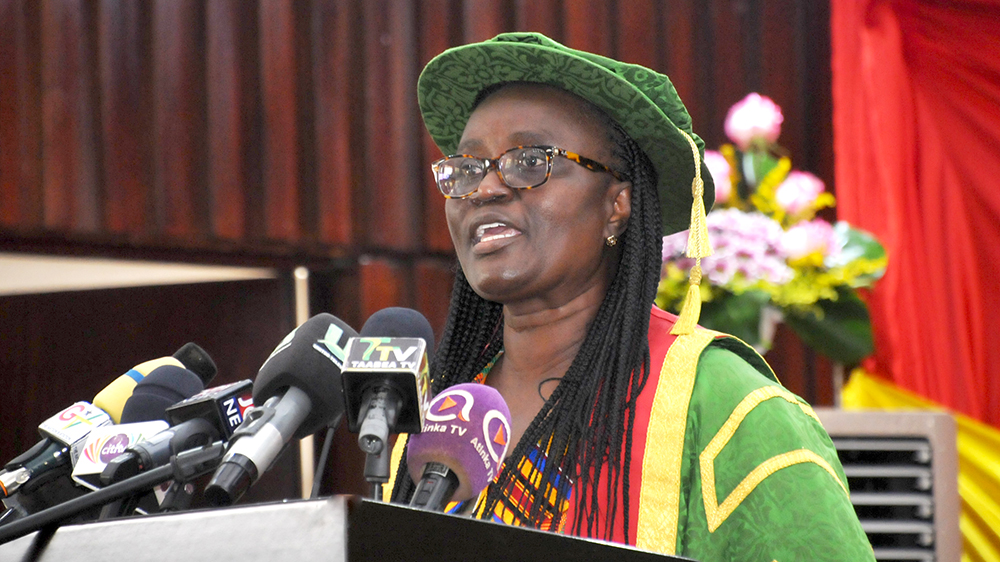 The Vice-Chancellor, Professor (Mrs.) Rita Akosua Dickson in her inaugural address defined her vision as 'Positioning KNUST as a competitive global research-intensive institution for advancement in science and technology for industrial and social uptake towards sustainable national and global development".
According to her, this vision will be achieved by "creating strategic opportunities using inspired leadership, active stakeholder participation, highly qualified and motivated human resources, research and entrepreneurship-oriented academic training".
Prof. Dickson further promised to provide high-quality all-inclusive education that produces globally competitive graduates in terms of knowledge, skills and information technology and work to improve teaching and learning environments by enhancing curricula, pedagogy, culture, infrastructure and digital technologies.
She revealed that with the new normal, the need for Information Communication Technology (ICT) in teaching has become more relevant than ever, and must include the use of Smart Technologies for synchronous and asynchronous teaching, learning, assessments, research, Virtual and Augmented Reality Lab for 3D-aided learning. In light of this, KNUST in collaboration with philanthropists and key stakeholders would "Support One Needy Student with One Laptop dubbed SONSOL PROJECT" to help all students access online resources.
In terms of finding solutions to the graduate unemployment menace, Prof Dickson outlined her vision of establishing a Career Development and Skills Centres in the Colleges, an "Entrepreneurship Support Fund", Youth Entrepreneurship Challenge, Exhibitions, Boot camps/Clinics in line with the Government's policy on "Students Entrepreneurship Initiative".
On infrastructural developments, she mentioned that management would build a Library Mall with digital online resources to provide a 24-hour service for students to utilise the free Wi-Fi services on campus.
She also announced that on-campus accommodation will be improved for students through collaboration with the private sector using the Build Operate and Transfer (BOT) model, establish strategic production units that will include water and tissue manufacturing plants, set up an Enterprise Development Unit (EDU) to commercialise research findings to ensure increase in our research uptake by society, empower the KNUST Centre for Business Development to champion 'One Department-One Start-Up (1D-1S)' agenda and Leverage on Public Private Partnerships to develop KNUST's properties in both Accra and Kumasi, and build a "KNUST CONNECT" Alumni App that bond students and alumni.
The colourful ceremony was well attended by His Excellency, Nana Addo Dankwa Akufo-Addo the President of the Republic of Ghana, the Minister for Education, Honourable Dr. Matthew Opoku Prempeh, the Ashanti Regional Minister, Honourable Simon Osei-Mensah, Asante Mampong Hene and former Registrar of KNUST, Daasebre Nana Osei Bonsu II, members of the University Council, past Chairmen of the University Governing Council, former Vice Chancellors of KNUST, Vice Chancellors and Registrars of sister Universities, some Traditional Leaders and the Clergy, The Pharmacy Council of Ghana, Old students of St. Monica's and Wesley Girls' Senior High Schools, family members of the new Vice Chancellor, members of Ghana Baptist Convention and the University Community.
The entire ceremony was held under tight COVID-19 protocols established by the Ghana Health Service and the COVID-19 Management Committee under the office of the President.