From Cartoon Enthusiast to Award Winning Film Maker – The Story Frederick Walker of Pentecost University
What began as a means to while away time when growing up has now become a passion and a cash cow for Pentecost University's Level 100 Logistics student, Frederick Osei Ofosu Walker.
When his sister Eunice recommended that he entered into the Screen Space competition, he initially ignored. However, two days to the close of entry, he quickly shot and edited a 1-minute video on the ills of corruption. The next day he submitted his entry which was to propel him to follow his passion for videography with the needed zeal.
" The video had to be less than one minute which was really challenging. It paid off with a scholarship to the Metfilm School in London and also a DJI Osmo (a mobile phone gimbal)", Fred recalls adding that "the video emerged the 2nd best entry from the 15 best-shortlisted entries from over a thousand entries worldwide in 2018.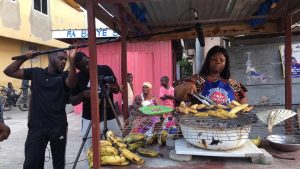 20-year-old Fred entered the Pentecost University as an aspiring music video director. He believes that the PentVars education will give him the needed push, exposure, and leverage to portray Africa to the world in a dignifying manner. He hopes that by working on his craft and learning to earn a degree in logistics as well as the professional certificate from the Chartered Institute of Logistics & Transport (CILT), he would be able to diversify his knowledge base, adopt a lifestyle based on purpose as well as earn income from other sources.
Looking forward to being empowered in the coming years on campus, Fred is optimistic of drawing and drinking from the Pentvars mentorship program and also to draw more inspiration from Anas Aremayaw Anas, the celebrated investigative journalist and what he does!
"My end goal is actually to slowly divert from music video scene into creating documentary sort of videos which will help tackle our national issues and bring development", he is confident. "I have always imagined myself creating my own movies, so I used to write stories a lot and would basically bring my imagination to life and see the stories onscreen. In the SHS (Adisadel College), I knew friends who did music and whenever I heard their songs I used to picture it visually in mind's eye. People are motivated by what they see so I seek to uplift people through visuals".
Fred's repertoire oozes with creativity and inspiration working with artiste in Ghana and in the UK for over 15 videos and documentary to date. Whether filming Quamina MP's Mankesim to London or discovery Kwesi Arthur's Trip to Takoradi, human interest, excellence and the love for country is his soft spot.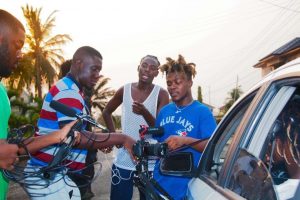 Interestingly, as he uncovers the intrigues of his passion, Apostle Dan Walker (PhD), Vice-Chancellor of Pentecost University from whose quivers he emanates softly manages his talent. "My dad is my manager. He helps with the amount to charge (video cost) and how to relate with clients. He prays I work with the bigger artiste and expand to the international level", he says and giggles
A profile of Fred's works includes but not limited to the following:
Coventry University's launch video
Flexgod daps – edited his talk in London /My Runway Group
Manifest- shot and edited both pictures and pictures at the Gamble Album listening in London (UK)
Karl Lokko- interviewed, shot and edited talk show at Coventry University
Mawuli Gavor – shot and edited w/Bristish CouncilxMy Run Way Group (Home Coming GH event)
God rated inc – worked on multiple videos as partnering brand for Emmanuel O2 program
Ground-up chale – worked on different series and music videos which featured artistes like Kwesi Arthur, Quamina MP, Twitch, Day
Shekinah sings- shot and edited 2 videos for this gospel group both at the 02 ARENA IN London and the cupcake boutique Ghana
Faith Child – shot and edited his video at the O2 Arena, London
Fred encourages his colleagues to keep working hard, build on their craft today and keep the long term goal in order to spread a positive message through entertainment.
How To Surprise Your GirlfriendOn Her Birthday
If you want to make your girlfriend feel special on her birthday, there are a lot of things that you can do. You don't have to spend a lot of money in order to make her feel loved and appreciated.
In fact, some of the best gifts are ones that come from the heart rather than being expensive or elaborate. Try one of these ideas for making your girlfriend feel special on her birthday:
Do something she has wanted to do for a long time.
Surprise your girlfriend on her birthday by doing something she has wanted to do for a long time.
Go for a morning jog with her at the park.
Volunteer at the animal shelter together, cleaning cages and feeding dogs or cats. If you have kids, you could also bring them along when they're old enough to help out as well! This will be a great bonding experience for everyone involved!
Take her on an adventure in nature like hiking up a mountain or exploring caves nearby (if there are any). It's important that you plan ahead so she doesn't get hurt while trying these activities though! Also, make sure they aren't too strenuous since women tend to not have as much energy as men do even if they look good doing it too 😉
Go somewhere she has always wanted to go.
As a rule of thumb, we suggest that you take your girlfriend somewhere she has always wanted to go, but never had the time. This can be anything from a trip to the beach or concert to an amusement park or weekend getaway at a fancy hotel. The point is for you both to enjoy yourselves and have fun together!
If you want to do something really special for your lady love on her next birthday, book tickets for her favourite band taking over the town in two weeks—but don't tell her about it yet! This will keep her on her toes during their concert date and make her feel loved after all this effort from you!
Take her on an unconventional date.
A unique date can be the perfect way to surprise your girlfriend on her birthday. When you take a girl out for the first time, you have to impress her and show her that you are not just any guy.
If she's never been to the place where you're taking her for dinner or drinks, then it'll definitely leave an impression on your woman.
You don't have to go overboard with this one; just try something new and exciting! Even if what you choose is not extravagant or expensive, she will appreciate that special effort was made in order for her enjoyment - even more so when she realizes that all other guys wouldn't bother doing such things for their girlfriends' birthdays (or at all).
Get her a thoughtful gift.
When you're looking for the perfect birthday gift for your girlfriend, it's important to keep in mind that she will actually use and appreciate what you get her. A thoughtful gift is one that is special to you, but also something she will appreciate. You can take this a step further by making the gift yourself—this shows that you put a lot of thought into it!
Paint her favourite picture of herself on canvas (or another medium) using watercolours or acrylics
Make a scrapbook filled with photos of your favourite memories together and write captions as captions were written back when people still wrote on paper instead of computers (which means they're handwritten)
Spend more time with her than you usually do.
As the saying goes, actions speak louder than words. This is especially true when it comes to your girlfriend of four years who has been feeling neglected lately and has been complaining that she wants more time with you.
You could take her out for a fancy dinner or buy her a gift, but those are all things that have been done in the past by other people and they might not be as special to her as they once were. Instead, why not spend more time together?
Spend more time with her than you usually do. Make sure that each day you spend some quality one-on-one time with her before bedtime so that she knows how much she means to you—and how much fun she can be!
important for couples to make time for each other even when life gets busy; this can help keep the spark alive in any relationship!
Do something out of the ordinary for the two of you.
Do something out of the ordinary for the two of you.
Go for a walk in the park, go for a hike, or get a babysitter and go to a movie.
Take your girlfriend to an art gallery or museum and look at all the paintings together.
Go to an amusement park that she's never been to before (but don't forget her birthday present).
Go see a comedian perform live with your girlfriend so that he can make jokes about how old you both are!
Bring her flowers or a small gift when she least expects it.
Flowers are a classic gift that any woman would love to receive on her birthday. The most important thing to know is what kind of flowers she likes best, so do some research and make sure you know your girl's favourite flower before you go out and buy it.
If you're not sure, ask her friends or family members what they think she would like.
Another thing you can do with flowers is getting creative with the presentation. You could wrap them up in cellophane and place them in a small box filled with tissue paper or put them in a vase and bring that to her house.
This can be done by asking the florist for help if you aren't sure how to arrange them yourself!
Don't forget to include a card or note explaining why they're special: "Happy Birthday" or some form of gratitude might be enough depending on how well you know each other at this point (if not yet).
Give her a private dance party.
If you want to surprise your girlfriend on her birthday, then the best way is to invite her over for a private dance party.
You could play some of her favourite songs, or even make up a song that describes how much she means to you. You can even put on some fancy clothes and dance with her. The most important thing is to make it special because after all, this is the woman who has been by your side since the beginning.
If she doesn't like dancing and prefers to sit back and watch others do their thing, then just make sure that she feels comfortable watching from afar before joining the fun!
Bring back an inside joke or happy memory from your relationship.
One of the best ways to surprise her is by bringing back an inside joke or happy memory from your relationship.
The best way to bring back a happy memory is by showing her something that reminds you both of that memory, like photos or videos. You can also share stories about how funny it was, and how much fun you had together.
For example, if she always laughs when you say "I love dinosaurs" in a really annoying voice, then saying "I love dinosaurs" in your most annoying voice would be a great way to surprise her on her birthday!
You can make your girlfriend feel special without spending too much money
You can make your girlfriend feel special without spending too much money.
Spending time with her and doing something she has always wanted to do is one of the best ways to surprise your girlfriend on her birthday. You can also surprise her by buying her a thoughtful gift.
To make this gift special, you can add a personal touch that not everyone else will have thought of. For example, if your girlfriend likes chocolate then you could buy her some chocolates but add a personal message inside each box so that only they know what it says.
You don't have to spend a lot of money to show how much you care about your girlfriend. If you want to do something special for her birthday, just think about what she likes and try to make it happen.