I am not going to surpass Novak Djokovic's 24 Grand Slams
Former World No. 1 Rafael Nadal believes he won't be able to surpass Novak Djokovic's record of 24 Grand Slam titles.
Nadal, Djokovic, and Federer were once tied at 20 Grand Slams each. The Spaniard broke the tie and became the first man to win 21 Major titles at the 2022 Australian Open. He then won the French Open the same year, extending his lead over his two rivals to two Majors.
Things started changing after Djokovic won his 21st Grand Slam title at the 2022 Wimbledon Championships. He then won the 2023 Australian Open, French Open, and US Open to become the first player in the Open era to win 24 Grand Slams.
Rafael Nadal himself, meanwhile, was sidelined for the entire 2023 season due to a hip injury that he incurred during the Melbourne Slam.
The Spaniard, who is preparing to make his comeback in 2024, has now expressed doubt about surpassing the World No. 1's Major count. Nadal recently spoke during a media interaction at the launch of the Teknon Tennis Clinic in Barcelona, where he gave his two cents on the matter.
"I am not going to surpass them [Novak Djokovic's 24 Grand Slam count]. I don't think we are in that position. I live a reality very different, I haven't played for a year and for me personal success is maintaining the enthusiasm to do it again," the 37-year-old said. (Via Eurosport)
---
Rafael Nadal thinks 'it will be very difficult to recover a very high level of tennis' in his comeback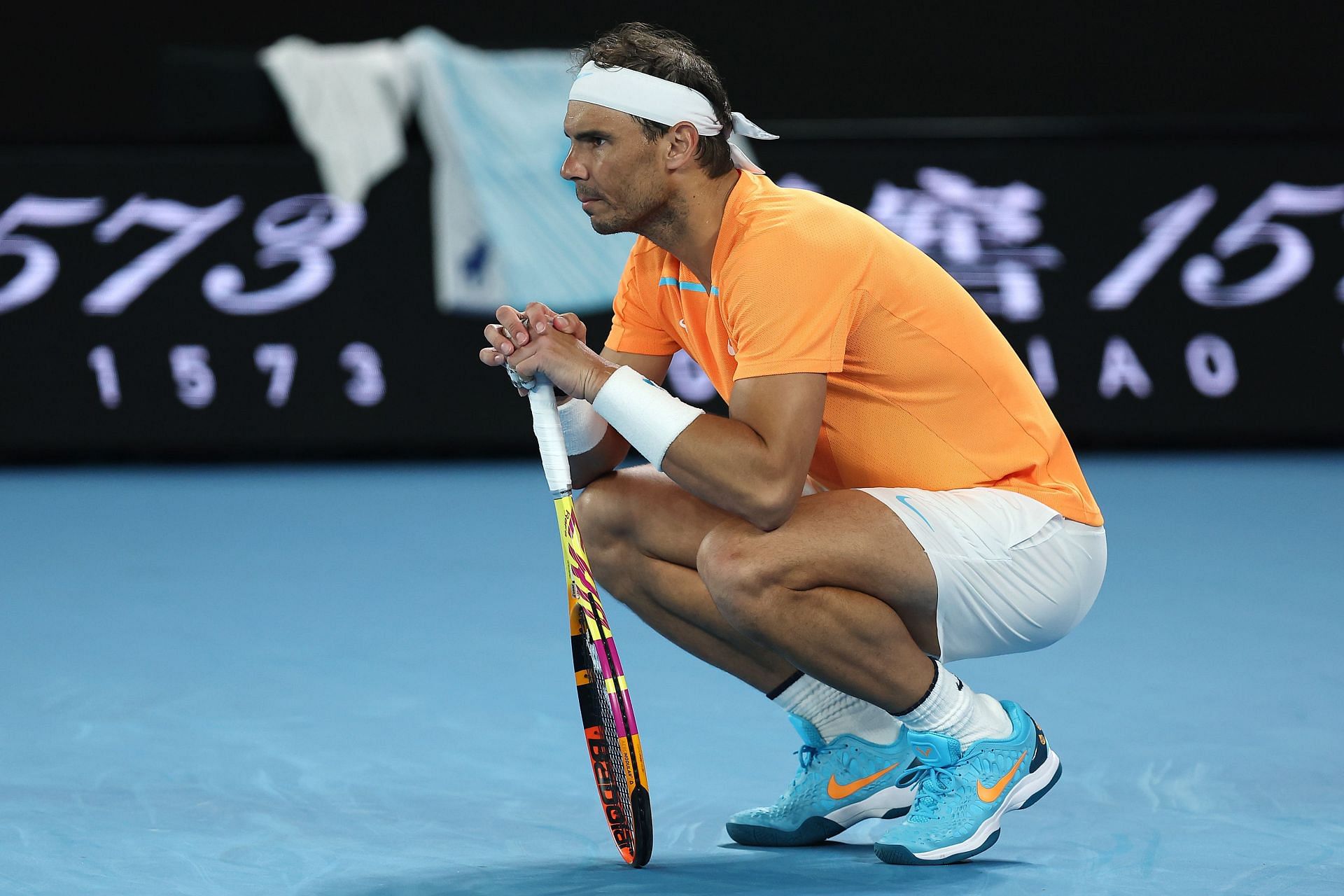 Rafael Nadal has not specified a return date, although it is expected that he will make his comeback at the 2024 Australian Open if everything goes as planned.
In that regard, he acknowledged how difficult it would be to play tennis at a high level following his extended break from the ATP Tour. However, he believes that the work he has done in recent months would only boost his competitive spirit.
"I sense that it will be very difficult to recover a very high level of tennis. But hey, if I did not have the illusion of trying to be competitive, Well, I probably wouldn't be doing everything I've done in recent months, all the effort it takes at the age I am, and after having a very long career, the years weigh on me," Nadal said.
The 22-time Grand Slam champion spent 209 weeks as the World No. 1. However. he is now certain to finish the season as World No. 664, and he might tumble down even further depending on the upcoming ITF tournament results.
What is the foot injury that has troubled Rafael Nadal over the years? Check here
var fbPixelFired = false;
document.addEventListener("scroll", function() { loadFBPixel() });
document.addEventListener("mousemove", function() { loadFBPixel() });
function loadFBPixel() {
if(fbPixelFired) {
return;
}
fbPixelFired = true;
!function(f,b,e,v,n,t,s){if(f.fbq)return;n=f.fbq=function(){n.callMethod?
n.callMethod.apply(n,arguments):n.queue.push(arguments)};if(!f._fbq)f._fbq=n;
n.push=n;n.loaded=!0;n.version='2.0′;n.queue=[];t=b.createElement(e);t.async=!0;
t.src=v;s=b.getElementsByTagName(e)[0];s.parentNode.insertBefore(t,s)}(window,
document,'script','https://connect.facebook.net/en_US/fbevents.js');
fbq('init', '952063904834769');
fbq('track', "PageView");
fbq('track', 'ViewContent');
}