Is Ryan Seacrest gay? A closer look at his dating history
Born and bred in Atlanta, Seacrest has long been the face and voice of radio and television. He is well known for hosting kids' shows such as Gladiators 2000, Fox Family Channel's Wild Animal Games and Click. However, the social media personality's sexuality has been a heated discussion among his fans. Looking at his dating patterns and fashion statements, he always leaves his fans contemplating his sexuality, with many wondering, is Ryan Seacrest gay?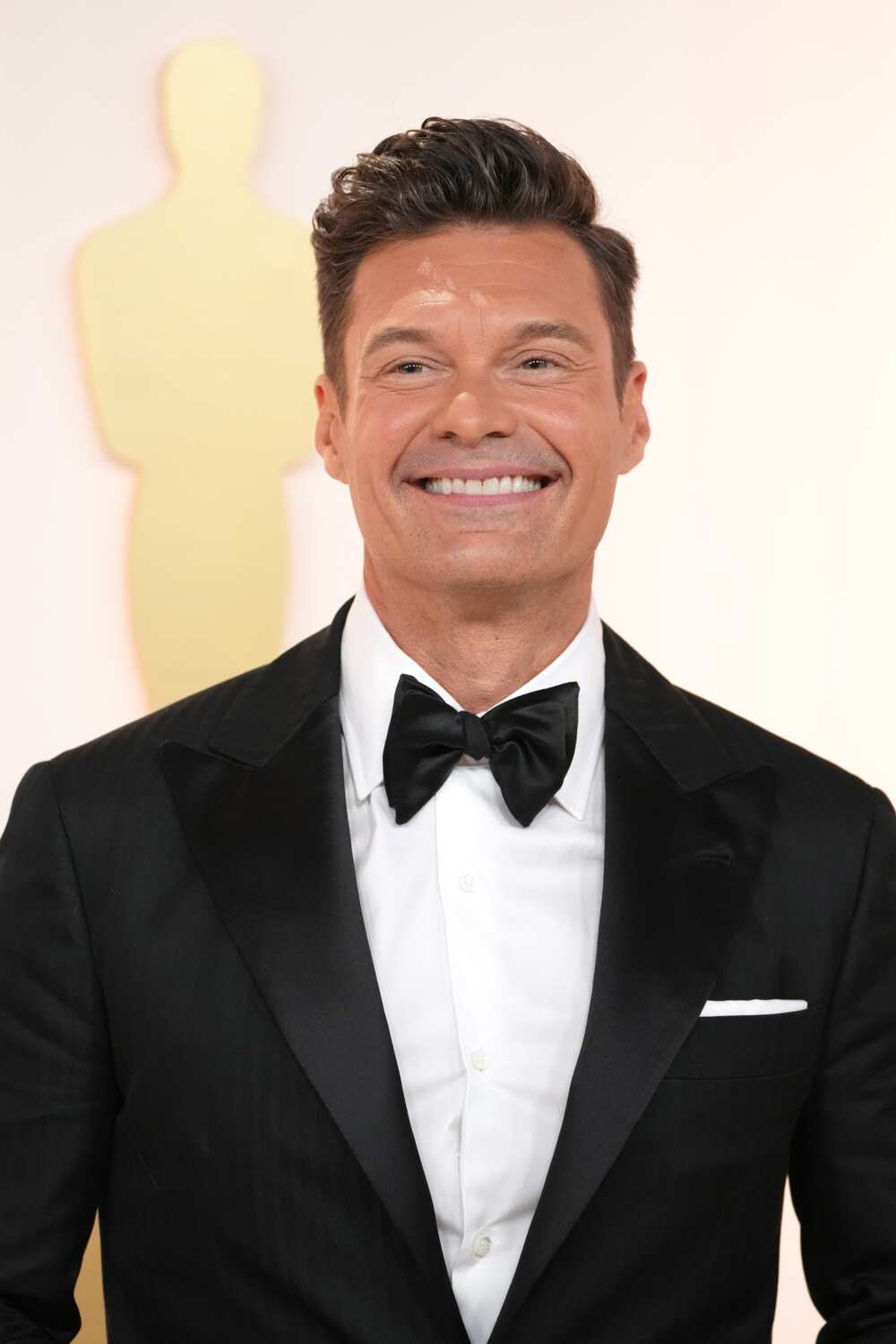 Ryan Seacrest is a well-known American producer, TV presenter and social media personality. He hosts the Ryan Seacrest for The Ride Home show aired on Los Angeles's Radio Station, 98.7 FM. He also hosted the famous American Idol show of 2002 and the American Juniors show. Learn more about his dating history.
Is Ryan Seacrest gay?
Seacrest dating profile suggests that is straight. However, many have speculated that he is gay, after which he has always proven them otherwise. Furthermore, no single man is in his dating history, as he has always dated women.
Ryan's fans suspected him to be gay because of many reasons. First, the social media star loves telling gay jokes. More than once, he has been quoted on his television shows making homosexual jokes with his co-hosts. For instance, there is a time Simon Cowell called Seacrest "Sweetheart" on one of the American Idol aired in 2014. He further encouraged Seacrest to "come out" of the closet jokingly.
The other factor that contributes to the rumours of him being gay is his fashion sense and mannerism. For instance, Ryan grabbed a male audience member out of the crowd to dance with him during one of the American Idol show. Furthermore, many have noted that the radio presenter has feminine-like behaviours in that he makes confusing advances at men.
There was an instance where Simon Cowell couldn't give a straight answer when he mentioned that Ryans's favourite song was It's Raining Men. This song is loved by gay brothers, referring to their favourite choice of partners. The statement brought forth more speculations that were still cleared by a clean dating history showing that he is into women, not men.
Ryan Seacrest's dating history
Who is Ryan Seacrest dating? He is currently dating Aubrey Paige Petcosky. He has a lengthy relationship history with numerous ladies going back to the start of his career in 2002, some being true while others are mere rumours. Here is the highlight of his dating history.
Shana Wall (2003 – 2005)
Shana is a well-known American model and actress. She was Seacrest's first girlfriend to be known in his dating history. She made her first debut in 1995 with an episode of the Married with Children television series in 1987.
Ryan and Shana started dating in 2003, and their relationship lasted for two years. They shared a stage at occasions like the 2005 Primetime Emmy Awards. While they split up in 2005, they remained to be great friends over the years.
Teri Hatcher (2006)
Teri Hatcher became Ryan Seacrest's girlfriend in March 2006. Hatcher is an American actress, writer, presenter, and former NFL cheerleader. She is known for her role as Susan Mayer on the television series Desperate Housewives.
Ryan and Hatcher were caught on camera kissing in public. However, that was the same day that the two were together. After that day, Seacrest called Hatcher and stated, "I don't think I can do this with you," which marked the end of their relationship.
Jasmine Waltz (2009)
Reality TV star, bartender, and fashion model Jasmine and Ryan briefly dated in 2009. The two met at a West Hollywood lounge called Guy's, after which they appeared in public walking together.
However, the relationship did not last as it ended as soon as it started. They were rumoured to have gotten back together in 2014, but it was rumours.
Julianne Alexandra Hough (2010 – 2013)
Julianne Alexandra Hough is an American actress, singer and dancer. She became a household name virtually overnight as a two-time professional champion on ABC's top-rated Dancing With the Stars. She also made a seamless transition to becoming an award-winning music artist and made her impact in the film industry.
Ryan and Julianne started dating in 2010, and they made their relationship public. However, the relationship only lasted for three years, after which the two went separate ways. Julianne stated that they broke up because of the lifestyle Ryan gave her. She further explained that she needed to end the relationship to create a lavish lifestyle by herself.
Shayna Taylor (2013)
After breaking up with her long-time girlfriend Julianne, Ryan moved on to dating an entrepreneur and wellness influencer, Shayna Taylor. Before breaking up in June 2020, Ryan Seacrest and Shayna Taylor had a long history of on-and-off relationships.
The duo initially met in 2013 and had great chemistry. They dated for roughly a year before calling it quits. They were seen together once again in 2016 as they had reconciled. Ryan and Shayna later relocated to New York City, where they cohabited until February 2019, after which they broke up for the third time in June 2020.
Aubrey Paige Petcosky (2021- present)
Does Ryan Seacrest have a girlfriend? The television producer is dating an American model and social media star, Aubrey Paige Petcosky. The two met in early 2021 but kept their relationship private for quite some time. Their relationship was made public in May of the same year when Aubrey shared a photo on her Instagram page with a hearty caption.
Is Ryan Seacrest married?
The American television star is not married. Even though he has dated many women, none of his relationships has resulted in marriage. He is too preoccupied with his work to consider getting married.
FAQs
Who is Ryan Seacrest? He is an American television and radio host, actor, writer, businessman, and television personality.
How old is Ryan Seacrest? Ryan is 49 years old as of 2023. He was born on 24 December 1974 in Atlanta, Georgia, USA.
Is Ryan Seacrest gay? The television personality is not gay. Even though he has given people reasons to think he is gay, Ryan has a lenghty history of dating women in his past, not men.
Who is Ryan Seacrest's wife? Ryan has dated several women, but none of his relationships resulted in marriage.
Is Ryan Seacrest in a relationship? Yes, the social media sensation and television host has a girlfriend. Ryan is dating an American model and social media star, Aubrey Paige Petcosky.
Did Ryan Seacrest have a baby? No, Ryan has no kids.
How did Ryan Seacrest meet Aubrey Paige? Its not clear how or where Ryan Seacrest and Aubrey Paige met. However, their relationship went public when they were spotted together celebrating Memorial Day in the Hamptons.
Is Ryan Seacrest gay? Ryan Seacrest has been in multiple relationships but has never been seen dating a man. Therefore, the television personality is a straight man. As much as he is successful in his career, Ryan is not married to anyone. However, he is in a romantic relationship with his girlfriend, Aubrey Paige Petcosky.
READ ALSO: Who is Chris Distefano's wife? Get to know Jazzy Distefano
Legit.ng recently published an article about Jazzy Distefano. She is an American celebrity wife and professional fitness teacher. She first gained notoriety as a result of her marriage to stand-up comedian Chris Distefano. She is renowned for having a strong dedication for helping women recover from postpartum depression.
Jazzy Distefano was born to Liz and Edwin Canuelas in Brooklyn, New York, in the United States. She is a certified personal trainer and professional fitness instructor with extensive experience in group exercise, spin, Zumba, and other wellness programs. Jazzy has three children.
Source: Legit.ng
Published by: www.legit.ng