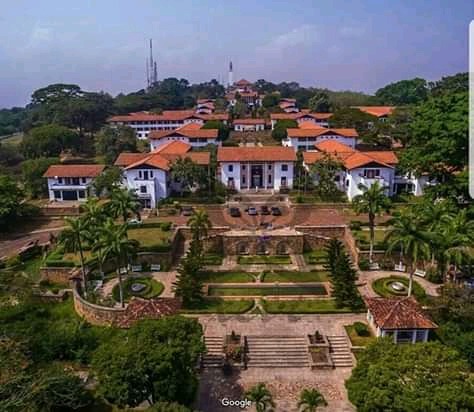 Commonwealth Hall is the third established students' hall of the University of Ghana campus and the first and only all-male hall residency.
According to the university's website the hall was established at the beginning of the 1956-57 academic year. Ghana had just realized its independence and to help honor Ghana's admittance into the Commonwealth of Nations, the University of Ghana's third residency hall was named the Commonwealth Hall.
The Commonwealth Hall was officially opened in March 1957 under the motto, "Truth Stands" which was taken from an extract in a satire by John Donne stating "on a huge hill, cragged, and steep, Truth stands and he that will Reach her, about must, and about must go". 
Which to the university and the hall was a perfect expression of both the physical location of the Hall as it was positioned on a hillside, which further overlooks most parts of the university and beyond; the extract also helped outline the search for truth as the appropriate quest of university education. To further justify this extract, the Commonwealth Hall is the only Hall of residence in the University of Ghana with a theatre and an Amphitheatre for plays and lectures.
Students of the Commonwealth Hall also known as The Vandals are arguably the voices of the entire student body. The vandals pride themselves with leadership and unity and this in further engraved in the hall's coat of arms, which represents the strength and unity of purpose of members of the hall, which mirrors in the strong bonds between the members of Commonwealth Hall.
According to some former members of the Commonwealth Hall, V.A.N.D.A.L. is an acronym for Vivacious, Affable, Neighborly, Devoted/Dedicated, Altruistic and Loyal. Which to them best describes the attributes of residents of the Commonwealth Hall, 'Vandalism' to them is a culture which encourages fairness, equality, freedom and justice regardless of the tribe, religion or various ideals which is why they are devoted to creating a sense of community and a voice for fairness and justice for the entire student population of the University of Ghana.
To the Vandals, even though the Hall was half-done at the time it was established, they saw through the span of its beautiful and striking architecture and the openness and freedom of movement and amenities and sought to maintain a sense of brotherhood to help further develop the hall and the university as a whole.
They believe in an open-minded policy, with the lively passionate residents of the hall, which helps set a persistent devotion to the hall with a resolve to enjoy life in a challenging university experience.