Nairobi Family in Agony as Sister with Brain Cancer Goes Blind After Surgery, Loses Baby Because of Chemo
Non-Hodgkin lymphoma (also known as non-Hodgkin's lymphoma, NHL, or sometimes just lymphoma) affects white blood cells of the immune system.
Clarice, a nursing student at Kenyatta University, was first diagnosed with the cancer in 2020 and then later got CNS lymphoma (it's a type of cancer that forms on the brain tissue)
The brain cancer cost Clarice her eyesight and because she had to undergo chemotherapy, she also lost her baby
In 2020, Clarice Aluoch was living her best life as a nursing student at Kenyatta University, when she fell pregnant and during hospital tests, it also emerged that she also had Non-Hodgkin lymphoma.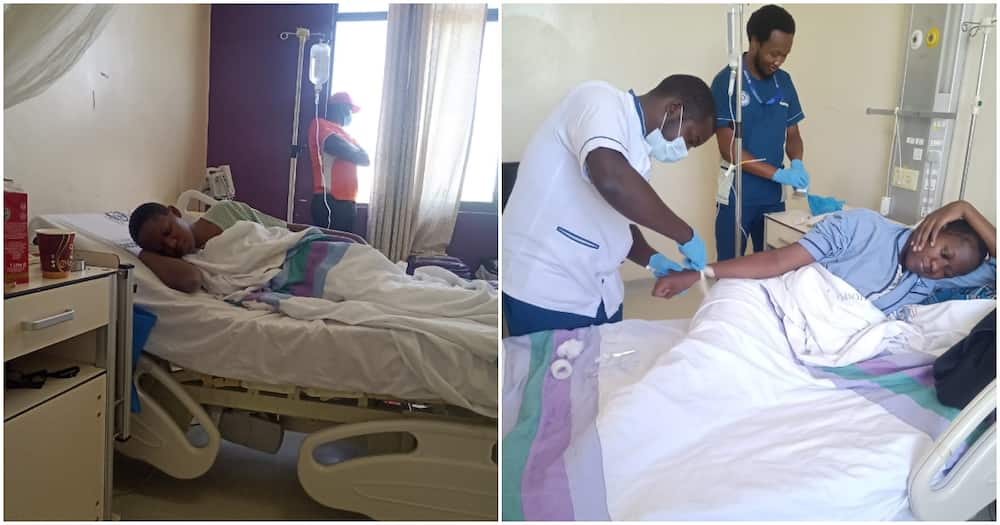 What is Non-Hodgkin lymphoma?
According to the Cancer Organisation, Non-Hodgkin lymphoma (also known as non-Hodgkin's lymphoma, NHL, or sometimes just lymphoma) is a cancer that starts in white blood cells called lymphocytes, which are part of the body's immune system.
"There were no serious symptoms then so Clarice was treated and went back home where she got her baby (now three years) to continue with her life," said her devoted brother Kennedy Ouma.
Little did the family know that the temporary relief was the calm before the storm as major symptoms started showing up around March 2022.
"We never went back to the oncologist because of the costs, and Clarice also never shared much after her first child. This caused a gap in follow-up," Kennedy told TUKO.co.ke in an interview.
Clarice was diagnosed with CNS lymphoma
In May 2022, Clarice started complaining of severe headaches and she was also straining to see. She was taken to Jaramogi Oginga Odinga Hospital in Kisumu where several tests were carried out including pet scans.
"She tested positive for CNS lymphoma (it's a type of cancer that forms on the brain tissue). Once it grows, it generally affects the sight)," he shared.
"CNS lymphoma cancer is treatable ( the good news we have),"he added.
The family was advised to see an oncologist ( cancer specialist) in Kisumu. She organised a brain surgery in December 2022 which was very successful.
"We never went back to the Oncologist as we thought everything was okay. Early December 2022, she began complaining of severe headaches and couldn't now see properly," said Kennedy.
Clarice is at Kenyatta University Hospital
That's when the same Oncologist did another test and referred us to Kenyatta University Hospital. Clarice started losing her sight slowly until it completely went out in January.
"When we were being referred to KU, she was 20 weeks pregnant, but never shared with me about the pregnancy due to fear. I came to realise she's 20 weeks pregnant after the first lab tests at KU," said Kennedy.
"At the time, she had started undergoing chemotherapy treatment and was supposed to get 6 cycles at KU. We're on the 3rd Cycle this week," said Kennedy.
There were delays, the doctors said they couldn't proceed with the chemotherapy for Kenyatta University student with the pregnancy so we had to terminate the pregnancy but she lacked blood and platelets.
"I was advised to go seek arpharetic platelets at Agha Khan Hospital. It took me time to collect funds for this procedure," he said.
Baby was buried at Langata Cemetary
The pregnancy was terminated and Kennedy was given the body which he buried at Langata Cemetary in the absence of his sister.
"The third cycle started late and she looks so tired. They advised she be given a break for three weeks," said Kennedy.
" I'm just praying that I get any support to help me sort out the bills which was KSh 713,000 by the time she was leaving the Intensive Care Unit and is now at almost KSh 800,000," he said.
Kennedy is a lone ranger fighting for his sister's life as their parents are very old and stay in the village with Clarice's daughter.
"My mum is undergoing some illnesses as well, at times I choose not to share with her much about Clarice because I fear we might lose her if she learns of the gravity of the situation," he said.
To help Clarice you can use 0746780089.
Man announces wife is healed from cancer
In June 2022, pastor Philip Odero's wife, Kerina, was declared free of an aggressive cancer of the immune system.
Kerina was diagnosed with the cancer in January 2022 and within a few days, she lay in a coma dying. Philip was called to hold her hands and say his goodbyes.
She didn't die but started treatment and the praying couple were happy and relieved when the doctor told them that Kerina was cancer-free.
Source: TUKO.co.ke
Published by: www.tuko.co.ke