The National Inspectorate Board (NIB) had earlier today 17th December 2020 released a statement indicating that its name has been changed with immediate effect.
According to the statement signed by Mrs. Eva Arthur, Director-General Administration, this decision was backed by Section 87 of the new Education Regulatory Bodies Act, 2020 (act, 1023) and is now named National Schools Inspectorate Authority (NaSIA).
The National Inspectorate Board (NIB) is one of the autonomous bodies established by the Ministry of Education by the Education Act, 778 of 2008 to provide an independent external evaluation of the quality and standards in all pre-tertiary schools in Ghana.
The objective is to offer a diagnosis of what schools must do to improve by setting and enforcing standards that must be observed at the Pre-tertiary level and ensure public and private basic and second cycle schools are meeting the minimum standards for quality education.
The NIB is in the process of recruiting Team Inspectors, on a part-time basis, to carry out inspection and registration of schools across the country.
Check the full Statement Below :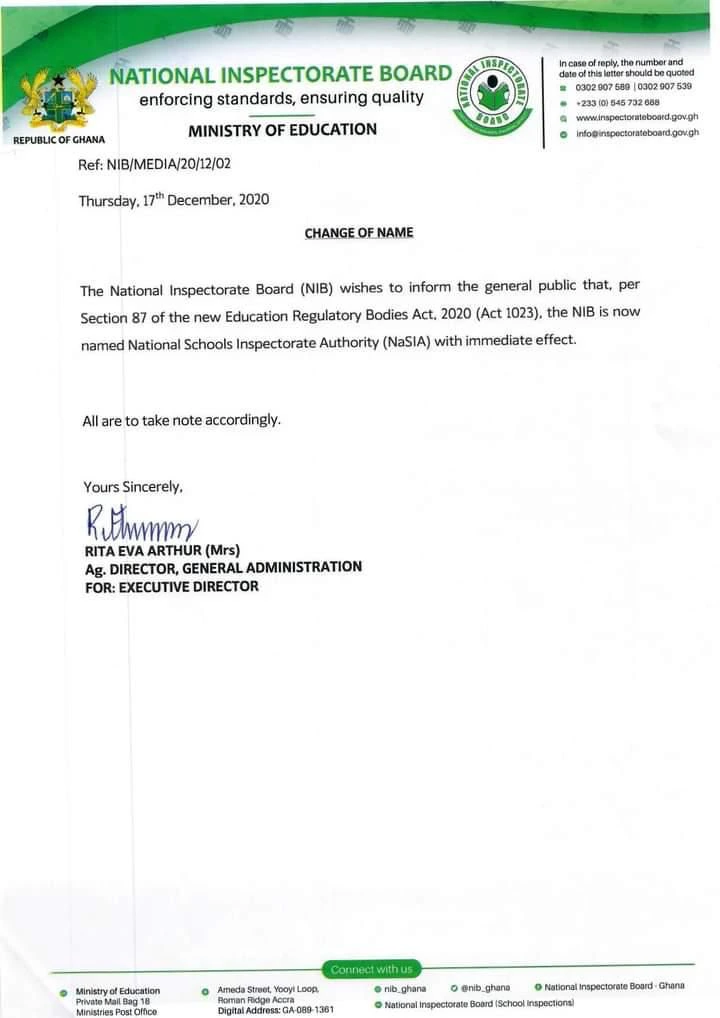 Disclaimer:

All trademarks and copyrights on this page are owned by their respective owners