'No School No Ball' Initiative to be introduced by Sikay Sports Agency in Ghana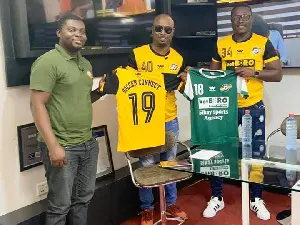 Sikay Sports Agency has come together with various stakeholders in football to introduce the 'No School No Ball' initiative in Ghana.
The Project dubbed Soccer Connect promises to aid young talented players in their future endeavours.
Chief Executive Officer for the project Christian Kpobi told AFA news channel how they want to expose more talent with the project.
"We created the agency because we want to expose more talent in Ghana. And the said Chance will help elevate our young talent. Opportunities are not given to our young footballers".
"Football these days has to do with money and if you don't have a good agency you can't make that money".
"You need to have an intermediary who will serve you interest everywhere. If you have a good agency then you can play good without thinking about been cheated".
The CEO also revealed the ultimate agenda is to create a dream team that will represent Ghana anywhere.
" Creating a dream team is the ultimate agenda now. A team that can represent Ghana anywhere. After organizing the tournament we will then select the best and then create our dream team".
"We have great talent here in Ghana and especially the rural areas and we will kick off from there when football returns".
The Soccer Connect program will start from various schools where a team is created in some selected schools and then a trial match will be organized to get the best.
Sikay Sports Agency is a Registered Fifa and CAF Agency that is engaged in marketing and promoting sports figures, negotiate contracts, handle endorsement deals, and managing athlete's finances. Founded in 2020 and will definitely chance the face of Ghana Football.