SHS Students in Accra undergo COVID-19 Orientation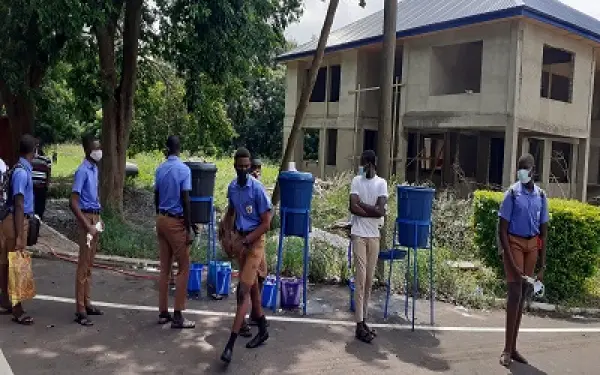 Senior high schools (SHSs) throughout the country reopened yesterday to prepare final year students for the West Africa Senior Secondary Certificate Examination (WASSCE).
The Yellow Track students in second year are also back to school to complete their first semester, in line with the Presidential Directive as part of the gradual easing of the COVID-19 restrictions.
The Finder, during a visit to a number of senior high schools within the Accra Metropolis, observed that students had duly reported.
The Finder also observed the level of activity on the first day back
St. John's Grammar Senior High School
At the St. John's Grammar Senior High School at Achimota, students and parents were observed packing trunks and other items from their cars into the dorms.
At the entrance of the school, there were two Veronica buckets for visitors to wash their hands.
Students were also seen lined up on the basketball court awaiting enumeration at a desk set up for that purpose, before going to their classrooms.
All students had face masks, but not everyone had them on, citing discomfort. They were also spotted openly interacting among themselves without much care for social distancing.
School authorities were not immediately available for interview.
Kwabenya Senior High School
At the Kwabenya Senior High School, there was a Veronica bucket for visitors to wash their hands. Students were seen cleaning their classrooms and loitering. Most students had their masks on.
Headmistress of the school, Rahinatu Salifu told this paper in an interview that 414 Form Three students are expected to return to school. She explained that "since this school is a single-track school, we are not expecting any Form 2s."
She also revealed to this paper that "we've also bought our own supplies, which include hand sanitizers, face masks and Veronica buckets." She also indicated that they had received the government's promised supplies.

On the issue of West Africa Senior School Certificate Examination (WASSCE) fees, she told this paper that with the rollout of the Free SHS programme, students are not required to pay for the WASSCE.
Regarding the issue of numbers, the school is currently employing 17 classrooms. She, however, said "we have more than 40 classrooms so accommodation is no problem."
Presbyterian Boys Secondary School (PRESEC)
At PRESEC, there was a notice on the main gate enjoining all visitors to wear their masks. There was also a Veronica bucket available for use while the security man was also on hand to enforce the "no mask, no entry" rule.
At the frontage of the school, students were lined up at a registration post waiting to be counted. At the administration block, there were more notices urging all visitors to use their masks.

The Assistant Headmaster in charge of Academics, Ebo Sey, told this paper that no student could be taken in unless they were registered. This process, apart from tracking the number of students on campus, was also a means of giving them their hand sanitizers and nose masks. To this end, a student who did not register would not get these items.
No students will also be allowed to go out of the gates once they were done being registered, he disclosed, though some teachers will be commuting from home
He also said the school authorities had taken steps to keep the number of students in each classroom to the prescribed 25 students.
He was, however, unable to tell how many students would be in each dormitory, since according to him, "our dormitories vary, the sizes vary. Some are big, some are small, some are cubicles, and so it varies."

He also said special arrangements have been made for dining periods with the Form 3s going in batches simultaneously in the two available dining halls, followed by the Form 2s. Ten students will be assigned to two tables for this purpose.
He confirmed to this paper that the government's supply of sanitizers and tissues had been received by the school authorities and were being disbursed to the students.
He also told The Finder that all students were registered for the WASSCE before the COVID-19-induced break. Here also, he confirmed that no student paid for the registration with the introduction of Free SHS, saying, "Students have already gone through the registration. They were made to register without paying. Before, you couldn't even register. You had to pay and submit before you can be registered. It's an instruction that came from the ministry, so the registration has been done without them paying."
Labone Senior High School
At the Labone Senior High School, The Finder observed that boarding students were also reporting to school with their mattresses and trunks.
The school had three Veronica buckets at the entrance of the school, along with soaps and tissue paper for visitors to wash their hands.
The inscription 'NO MASK, NO ENTRY' was boldly pasted at the main entrance of the school, with a strict monitoring of 'NO MASK, NO ENTRY' by a policeman at the school's entrance.
The 2nd Assistant Girls' Prefect at the Labone Senior High School, Patricia Mensah, noted that the pandemic wouldn't affect their performance as students, adding that "we were expected to utilise the time spent at home to prepare towards the exams and I expect everyone to be at least 90 or 80 per cent prepared for the exams."
Another Form 3 student, Gladys Sakyi Addo, who also spoke to The Finder, stated that she was satisfied with all the safety precautions taken by the school. She added that she trusts that students are in good hands.

"My parents told me to forget about the virus and focus more on my studies, and that is what I'm going to do," she added.
Assistant Headmaster in charge of Administration at Labone Senior High School, Isaac Arthur, who was impressed with the number of students coming in, said, "As at 11:30am today, we had more than 400 students reporting."
On logistics, he said the school had taken delivery of its logistics as the government promised, adding that, "We also already had enough logistics – Veronica buckets, tissues and so on – before government's component arrived. We'll start sharing what the government brought today.

"Wearing of face mask is compulsory on campus and no hand shaking; we're strictly adhering to the government's protocols.
"Any student who will move out of the school will be disallowed from coming back until exams start. There won't be any stiff punishment, but if you're a boarder and you go out, you won't come back again until exams because we're afraid you'll bring the virus to campus," the assistant headmaster said.
On whether the school has adequate facilities, he mentioned that Labone has enough facilities to contain 25 students per class, and "so we won't be overwhelmed; the class room arrangement isn't a problem."

Commenting on the expected number of students, Mr Arthur noted that his outfit was expecting about 800 students, stating, "We have enough teachers to teach the students so there'll be no teacher deficit at Labone School."

Because of social distancing, he indicated, the dormitories have been expanded and new dormitories had been created for the boys. With the girls' dormitories now capped at 20 students instead of the regular 40.

Answering questions on whether students had been charged for the West African Examination Council (WAEC) fees before the government's directive in that regard, he said "before the lockdown, school authorities were about discussing the WAEC fees. Once government has absorbed it, no student will pay. There's no cause for alarm."

indicated that no visitor would be allowed on campus. He, therefore, admonished parents to give their wards enough of everything to sustain them. "We have the contacts of parents and so if there's any emergency, we'll call them."
Mr Arthur pointed out that Labone has 76 teachers for final year students and 59 kitchen staff, stressing that the kitchen staff would be rotated.

He noted that the school has enough food for its students, adding that "the food at the dining hall is sufficient to cater for anybody. There wouldn't be any food vendor around."
Wesley Grammar Senior High School
When this paper arrived at Wesley Grammar, quite a handful of students had gathered at the administration block waiting to check in.
It was observed that the school was being tidied up to make the environment conducive for studies.
It also was observed that no Veronica bucket was placed at either the school's entrance or administration block.
School authorities were not available to speak to this paper because they were in a meeting.
Accra Academy
This paper observed that students of Accra Academy were reporting to school with their mattresses and trunks. Most students had their nose masks on as they reported.
The Finder also observed that the school's administration block and the main entrance of the school had Veronica buckets in front of them with soaps and reams of tissue paper for hand washing purposes.
We also observed that there was no temperature gun being used in the school.

Students were also identified walking in pairs, with the social distancing protocols being flouted.
The headmaster of the school refused to speak to this paper, saying that any information needed is to be directed to the Ghana Education Service (GES).
By Selorm of TheFinderOnline | Accra-Ghana