UGSRC President breaks silence on Double Track Module for 2020/2021 academic year
The mouth piece of UG Students finally breaks silence on the University of Ghana's proposed double track module of academic delivery.
Following the Presidential order of re-opening of Schools in January 2020, tertiary institutions across the country have if not all issued their academic calendar as well as modules for taking on the offing 2020/2021 academic business.
Consequent to above and the case of the University of Ghana, the student leader, Mr.Kwame Amo Ntow has allay students.
In a Statement released on Thursday December 24,2020 from the office of the Students' representative council ,it said, "the concerns and petitions of students were duely forwarded to the University's management and as a result a meeting has been scheduled for Tuesday 29th December ,2020.
He however called on students to make their grievances known through their respective Junior Common Room(JCR) Presidents', so that any issues brought before them shall be forwarded to management on the said date.
On the wider Sider , the President of the Students' Council admonished students to calm their tits as he prepares big to address all concerns brought before him,both continuing Students and Freshers.
Mr.Ntow did not render himself a persona non grata before his shepherds, as he boldly spoke about the residential state of the University and yes he was on the flank!, indeed a crucial space where students heart bears which he cannot do away with.
He emphasized that, Students who have already been admitted into various halls of residence,thus UGEL and traditional halls would need not to re-apply because their residential status will be maintained.
Meanwhile, students are on the wait to see the double track implemented by the University cancelled in order to encode academic quality as they have always wished for.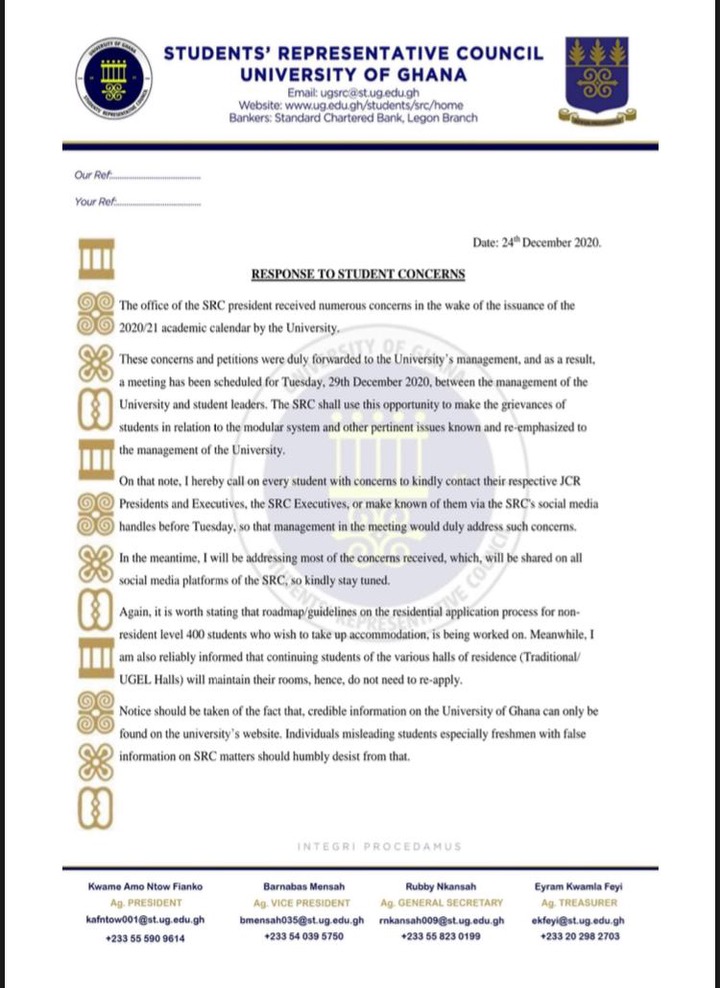 View pictures in App save up to 80% data.
Should students have their wish pursued by the incumbent SRC President in this crucial times ,he would be among the most celebrated Students' Leaders since the inception of the body in 1957.