University of Ghana explains the reason for Suspension of 2020/2021 Admission Process
University of Ghana on Monday released the long awaited admission list for the 2020/2021 academic year.
Even though a lots of applicants have expressed worry over the admission selection process as some have said they met the competitive cut off points for the courses they applied but have not receive any communication from the University on whether or not their application were successful.
However, Mrs. Yvonne Lartey an admission officer in the ongoing legon admission processing has revealed that admission is ongoing and that students should exercise forbearance as the list is being updated every day.
These could be some possible reasons why University of Ghana is suspending the intake of 2020/2021 applicants.
1. Festive Season (Christmas celebration)
2 .Technical Challenges
3. Means to take time of busy schedules to prepare the heat for releasing the next batch of the admission list upon resumption from break on Tuesday December 29th ,2020.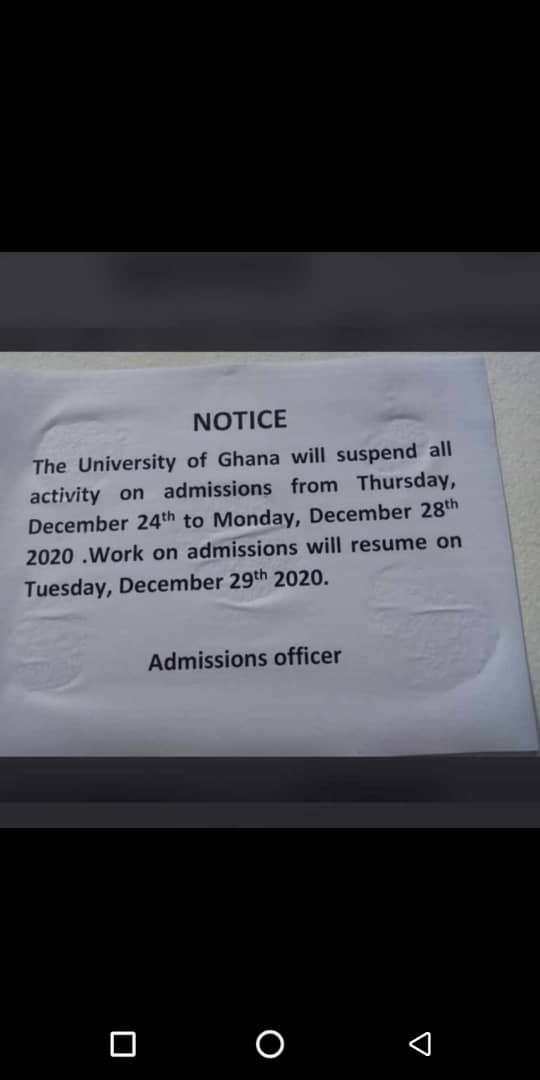 Applicants have been strongly advised to keep their fingers crossed as the list is being updated in a fresh edition.